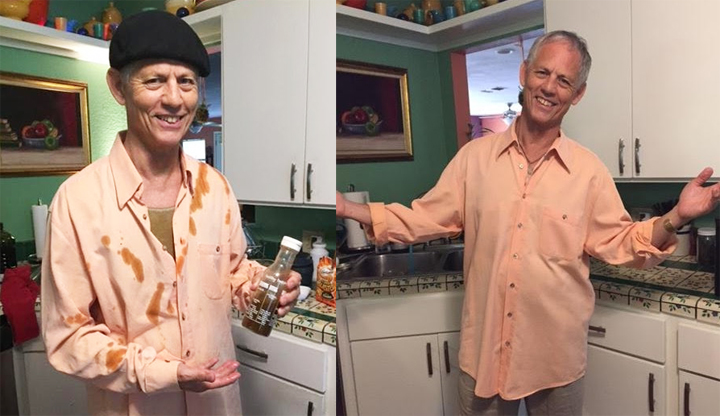 Recently I was mixing a fresh batch of salad dressing, when suddenly the lid flew off the bottle and splattered the oily mixture all over my shirt. Bummer. This is one of my all-time favorite shirts; I'd hate to lose it. Made of an incredibly smooth, silky Egyptian cotton by a top Italian designer, Ermenegildo Zegna, it probably cost $200 - $300 when new, although, like almost all of my clothes, I bought it at a thrift store and paid just a few bucks for it.
GETTING IT CLEANED
The Cynical Critic that lives in the back of my head immediately started yelling at me for having ruined the shirt, for not having tightened the lid of the shaker bottle. Telling me that I'll never get these oil stains out; the only chance of saving it requires taking it to the dry cleaners, which will definitely cost more than I paid for the shirt. Plus, in order to get this mixture of oil and basalmic stains out of my shirt, the dry cleaners would have to use perchloroethylene, a chlorocarbon which is toxic to people and degrades the environment. That's why I haven't gone to a dry cleaner in years. No way I would do that!
Between my anger at the mess I've made, the potential loss of a favorite shirt, and lack of salad dressing for the lunch I'd been rushing to prepare, I instantly find myself stuck in the yuck of a crummy mood. To say nothing of the fact that I've managed to work myself into an inner rant over the irresponsible industrial use of toxic chemicals and the horrors of climate change, and...
SETTING IT STRAIGHT
But within a few moments, I became aware of how silly it is to get so upset over such a simple accident, and start to laugh at myself. A couple of deep breaths later, I calm the Critic, reminding him that it's just a shirt. And, that it's quite possible that the folks at Clothesline Cleaners might be able to get these spots out with the non-toxic, environmentally friendly process they use. Plus, I still have plenty of time and ingredients to mix up another batch of salad dressing.
It's no big deal, but as Zet and I sit down to lunch a few minutes later, I find myself feeling incredibly grateful, not just for the food, but for having had the opportunity to practice the power of awareness in such a simple, straightforward way. Not that long ago, such an incident would have left me in a sour, self-judgmental mood for the rest of the day; now, it's just a temporary inconvenience, and a chance to laugh at myself. And, as poet Mark Nepo said so eloquently, it's also another reminder to enjoy this precious, present moment in all its "flawed abundance." Why not?
With gratitude and blessings,
PS: And, yes, as the before-and-after photos show, the folks at Clothesline Cleaners were able to get out every bit of that salad dressing without the use of toxic chemicals!